PlayOJO Casino
Overview
Money back on every bet: PlayOJO is a casino that gives you back control. PlayOJO online casino has no wagering restrictions and no hidden conditions. This casino uses the character OJO who is an in-game player sidekick, helping players get the most from their experience. PlayOJO online casino pride themselves on being transparent and fair and they have a really good "meet the team" section where you can read about the people behind PlayOJO.
PlayOJO online casino has over 500 games, Live Casino and lots of slots – everything from progressive jackpots to the latest releases. You can find great branded titles too.
PlayOJO works with all the biggest names in gaming developers including NetEnt, AMAYA, Barcrest, Microgaming, WMS, Evolution, NextGen and plenty more. PlayOJO even produces their own in-house slots under the GVG brand. They feature slots like Hot Wheels, Safe Hackers, and the famous Ninja Master slot.
PlayOJO is leading the pack when it comes to new and innovative features. OJO's casino offers players more than any other online casino out there. These new and exclusive features are enough to make you want to hop over to PlayOJO and take advantage of the generous and exciting extras that other casinos don't offer.
Disclaimer: Any mentioning of the phrase "Extra Spins" is merely to determine that the spins that come with a welcome bonus or a deposit bonus is not "free" in the remarks that you can receive them without having to do a deposit. If you are familiar with the term "Free Spins" and know how they work, it´s exactly the same thing – just without the misleading phrasing.

PLAYOJO Welcome Bonus
You'll never be disappointed in choices when it comes to promotions and bonuses. PlayOjo offers every new player 1 Extra Spin for every £1 they deposit which can be used on slots like Spina Colada and Jungle Books. PlayOJO players can take advantage of a new offer each day in the Kicker section, which means that you can check back every day to find out what kind of offer they are displaying that day.
OJOplus is an exclusive feature that gives all players money back on every bet. It's true, from the very first bet, OJO will put money into your OJOplus account (separate from the real money account). OJO pays out on all single wagers too, win or lose with no limits without any regards to how much OJOplus money you can earn. Its like cash, you can play or withdraw the OJOplus cash at any time. This puts PlayOJO ahead of the rest of its competitors.
We've found out that PlayOjo is really generous regarding their bonuses and offers, which often includes seasonal promos, Reel Spinoff tournaments, Extra Spins, Free Cash, A-lister rewards and OJO Wheel spins. And on top of it all, there are no wagering requirements on any of these promos, ever!
Loyalty System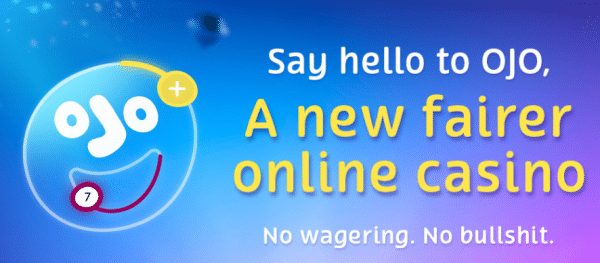 OJO Levels is  PlayOjo's own loyalty system where players can different kinds of rewards. Every time a player places a bet it contributes towards moving up in levels, the higher the level, the more rewards. And the best thing is that you can never move down in levels. The first few levels are relatively quick to climb, but you will still pick up spins on The OJO Wheel (see below) whenever a level is unlocked. You can even climb enough to get an invite to join the Club OJO for awesome VIP treatment.
The OJO Wheel is another fun extra that rewards loyalty and gives players another chance to enjoy more play. When a player reaches a special level, they will get a spin on The OJO Wheel. It's a simple feature where players pick from 3 different wheels, each with a different level of risk. The higher the risk, the bigger the reward. You can win a serious amount of Extra Spins on this.
You can also track your progress through Play Moments. This a unique addition that displays player milestones from play activity; you can see when you first signed up, biggest win, OJOplus cash outs, first Black Jack hand and more!
Play OJO Slots and Games
PlayOJO uses the best gaming technology to deliver a reliable gaming platform, just like for example Drueckglueck. The casino itself has a clean-cut and attractive presentation that makes navigating around the casino an absolute breeze. The user-friendly platform has a speedy and smooth performance throughout.
If you know what type of games you like, the Advanced Search function enables players to search using a wealth of game stats, including star rating, special bonus features, game provider and much more. With OJO Playlist, you can rank your games by stars to keep your own rankings of games to get an easier and faster access to your best online slots.
Support
If you ever need help along the way, you can easily reach OJO's professional and friendly support team who are available 24/7. The support team can be reached via phone, email or live chat. The support team are very knowledgeable and resolve player problems very quickly. If you need a simple answer, then there's also a clear and helpful FAQs section to refer to.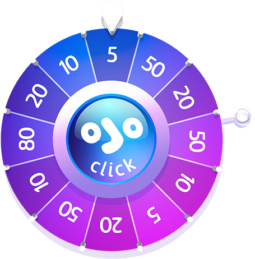 PlayOJO Supported Payment options
E-Wallets is a great way to deposit and withdraw money without ever having to give out your credit card information. It's as easy to register as it is to register on the casino, all you have to do is to verify with your ID-card.
On PlayOJO, once you make a deposit they give you the option to make use of the nifty Quick Deposit feature that cuts out all the work. This puts money in your account in a flash so you can get straight back to playing.
Front Page Theme
PlayOjo welcomes you with their own smiley as a loading screen. It can feel like the site takes a bit of time to load. Further in it opens up a bright and purpleish playful site with slideshows consisting of both offers and games. If you just woke up from a hangover, PlayOjo might not be the site for your aching head as the colors and stuff going on can be a bit overwhelming. While still keeping it pretty clean and easy to navigate, the front theme is not giving you the best impression of being a serious online casino, but that is really a subjective opinion that may vary from person to person.
The side menu gives you the option to log in or register as a new user. This is very accessible and a huge plus as that is often the primary thing a person needs to access when visiting the site. You can read about PlayOjo's "about us" section, "games", a really useful and well displayed "help" button, the "kickers" which is PlayOjo's daily offers as well as "Ojo's Specials" which we're quoting down below, since it's a really inviting quote and the cornerstone of Play Ojo's nich.
"Imagine a casino that gives you free money every time you play. Plus, it's paid straight into your OJOplus balance
and it's yours to do whatever you want with it. Plus, it all happens in real time. Plus…it's brilliant, right?
That's money back on every bet! Check out more on OJOplus right now."
There is actually a lot of things you can access on PlayOjo's main page before needing to sign up. This is often a sign that a casino isn't "forcing" a registration down the visitor's throat. For example, under "kicker", they tell you about how the bonus system works as well as giving you the option to read about welcome bonuses and the daily specials. They talk about the "OJO's reel spinoffs" where they have live tournaments daily with huge prices and a lot of participants. If you happen to finish in the top 3 on the leaderboard after the Reel Spinoff time has elapsed, then congrats – you're one of the winners and will take part in one of the bonuses presented. For example, you can get to enjoy a cool Extra Spins package and any winnings you picked up with the reel spins (Buy-in only though).
And on a more static note, you can, of course, read the "about us" posts, "terms and conditions" "responsible Gambling" and "Privacy policies".
Safety and Privacy Policy
PlayOJO does a lot to guarantee that your personal information remains 100% secure, intact and confidential. PlayOJO uses industry standard security protocols (128-bit, SSL data encryption technology) to make sure that all transactions are fully secure. This technology protects it's players information from being stolen while it is being transmitted between you and the casino.
As part of PlayOJO's registration process, they will ask you for a number of personal details – including your name, address, email and date of birth. You can also be sure that they have no interest or intentions to pass on or sell these details to a third party. This info's sole purpose is be used in conjunction with your username and password to verify your identity. And why wouldn't this be a thing? It helps, as stated in our blog in a wider perspective, to keep away all the shady players that's only in it to abuse the system.
Draft from PlayOjo online casino Bonus and game play Policy:
"We believe in Fair Play, hence there are no wagering requirements on any of our rewards or offers. Since we are fair, we expect you to be too, and in order to guide you on our expectations we have prepared the following Fair Play Policy. Any internal investigation which uncovers noncompliance of this Fair Play Policy, which will be determined by Us in Our sole opinion, may result in the removal of funds from your balance, suspension of any current or future Reward or closure of your account and refusal of any of your future accounts."
This is maybe not the most welcoming policy notification article, but at least they show that they are serious about any overstepping of their Fair Play policy. As you can see, PlayOJO has understood the importance of keeping a safe and trustworthy site for its visitors.We, as well as they (and everyone else probably), find virtue in keeping our personal information and more importantly our credit card information hidden from intruders.
Play OJO Withdrawals and Deposits
PlayOJO is offering the most commonly used payment methods – including all major credit and debit cards, prepaid cards and all of the e-wallets such as PayPal, Skrill, Neteller and many more. What's more, PlayOJO uses top-tier security software to make sure that every transaction is safe and protected. All payments are digitally encrypted using powerful SSL technology for complete peace of mind. 
Withdrawals are very fast (within a few hours, although it has happened that it has taken more than this) and they accept all different kinds of currencies for further player convenience.
Summary
PlayOJO is most definitely a casino worth visiting since they have a really nice no wagering welcome offer and real cash back on their Free Spins bonus offer. Also, their rule of thumb that every player receives a small "cash back" on every play (win/lose) is a really nice incentive for players to keep the mood up and have a much more enjoyable experience. The theme, as pointed out in this review, isn't the most eye-pleasing that is out there, but sure a lot of people either don't care or even enjoy the colorful and "childish" theme.
It's really appreciable that PlayOJO has made a lot of own customized events such as the "The Ojo Wheel", "Ojo Playlist", Ojo Levels", Ojo Plus" and the "kickers".
Enjoy the site and always play with moderation, something too much is never a good thing and gambling by paying of gambling depth is never the way to go! Considering your current residency, there is always help to get in control of a gambling addiction, and the earlier you acknowledge that this is the case, the better.

50 Bonus Spins on First Deposit
Claim Bonus