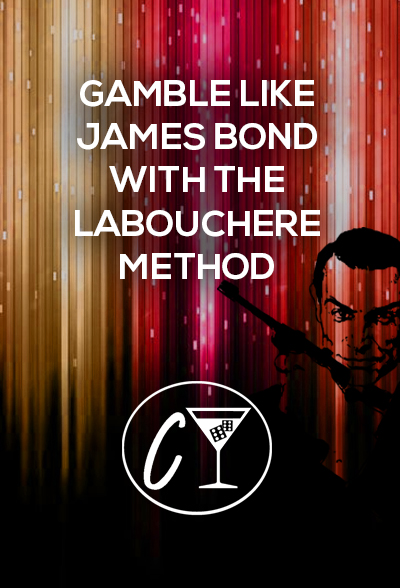 Do you want to spice up your even odds gambling? Maybe add a bit of a human-factor to it or just want to control your winnings. Or do you simply want to try the method that is claimed to be used by our favorite secret agent – James Bond?
The Labouchere Method is not for you if you're looking for a simple progressive betting system, instead check out our best online casino slots UK. It's one of the more complicated systems and takes some getting used to. Despite its complexities, however, it is still one of the better-known method and popular among gamblers. If you somehow expect a magical solution that will turn the odds of the game greatly in your favor, you are in for a bit of a disappointment.
For what it's worth, it is a good way to activate your brain, since it's a lot more interactive than your average roulette or craps strategy. On top of all that, it can be really fun to play. Crossing out numbers and getting closer to your goal adds a new, surprisingly enjoyable dimension to the game.
The Labouchere Methods History
Labouchere is a type of wager system which is claimed to be invented in 1600, at least that's when it is estimated traced back to. The name comes from the famous gambler Henry Labouchere, but the method didn't catch wind until the beginning of 1700 since the roulette wheel wasn't invented before this. It's also said that this is the exact method used by James Bond in the novels as well as in the movies preamble.
The Labouchere Method is also called the cancellation system or split martingale.
What is The Labouchere Method?
The concept of the Laboucheres method lies in the principle that if a player wins more than he loses, the player will be able to cross off every unit in the sequence created. The ultimate goal of the method is to cross off every number in a sequence, picked by the player himself. And to do this you need to make a couple of winnings in a row. And to avoid any uncertainties, an odd number game gives the method a more reliable outcome.
What happens when you are able to cross off all your numbers in your sequence is that you have been able to double your deposit. The goal is to be able to win back your losses through a couple of winnings, not just one big.
The Labouchere Method is characterized by the flexible nature of it, compared to other gambling methods, such as "The Fibonacci Method". Instead of following a pre-decided sequence, the player gets to decide one that is the most suitable for how long he wants to play and how much money he is willing to gamble with.
The Labouchere system which (when adhered to strictly) requires a winning percentage of at least 33.34% to complete.
The Labouchere Method While Online Gambling?
The mathematical part of is very basic. The first step is to decide a sequence that should represent how much you want to gamble with. You can pretty much pick any sequence of numbers you want. You want to keep some things in mind when you do though – how much do you want to earn, how much are you willing to risk, and what is your limit?
To keep it interesting, imagine that you have deposited £100 that you are willing to spend on, let's say, roulette. You decide your wagering to be £10 – which leaves us with a sequence of 10 numbers if you decide to go with an even sequence. If you, on the other hand, want to play with a higher risk you can instead use a sequence of 4 numbers or a more safe sequence of 20 numbers. Some examples is shown here:
£100 deposit with 10 bets: 1-1-1-1-1-1-1-1-1-1-1
£100 deposit with 4 bets: 25-25-25-25 or 2-3-3-2
£100 deposit with 15 bets: 5-5-5-5-5-10-10-10-10-10-5-5-5-5-5
As you can see, you can pretty much use any type of sequence you want!
Now when your sequence is decided, there are 3 guidelines that should be used when implementing the sequence to the Labouchere method.
1. Add the first and last number in your sequence to determine how big your wager should be
To decide your wager, before every bet you take the first and last unit of the sequence, given that it is not crossed over.
2. Cross off the first and last number whenever you win
If you manage to win, cross off the first and last number in your sequence. The next wager is determined by the next consecutive numbers in your sequence, like so:
2-(3)-4-4-(3)-2
3. Add a new number on the right side whenever you've lost – the number should be the total amount you wagered when you lost
If you manage to lose, you should not be crossing any numbers. In fact, you add a new number to the right side. This number should be equal to the amount wagered when you lost.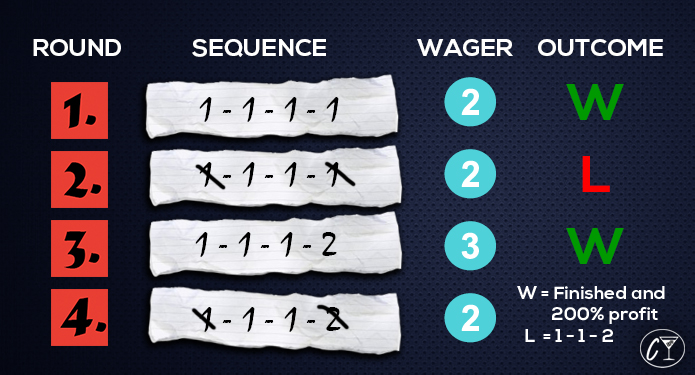 Follow These Steps
Lets say you have a pretty short sequence, 1-2-3.
Bet £4 (1+3),

lose

. Add 4 to the end, giving 1-2-3-4
Bet £5 (1+4), lose. Add 5 to the end, giving 1-2-3-4-5
Bet £6 (1+5), win. Remove 1 and 5, giving 2-3-4
Bet £6 (2+4), lose. Add 6 to the end, giving 2-3-4-6
Bet £8 (2+6), lose. Add 8 to the end, giving 2-3-4-6-8
Bet £10 (2+8), win. Remove 2 and 8, giving 3-4-6
Bet £9 (3+6),

win

. Remove 3 and 6, giving 4
Bet £4, lose. Add 4 to the end, giving 4-4
Bet £8 (4+4),

win

. Remove 4 and 4, finishing the chain.
What Type of Online Casino Should the Labouchere Method be Used On?
Since it is best applicable on all games that consist of even odds (Roulette, Black Jack and Craps), you would want to find a casino with a good quality welcome bonus or other kinds of bonuses where you can wager those games to the bonus wagering requirement. It's always required by the casino operator to give you the terms of the welcome bonus, where the contributions for the wagering requirements are shown in percentages.
Disregarding any kind of bonus, the method can be used on any type of online casino in which you feel comfortable using and where both depositing and withdrawal have worked out for you before. And also where you are not on the edge of amounting in any kind of over-loss.
Also, it's, of course, possible to use this method at both land-based casinos as well as at any kind of online Live Casino. (Although sitting with a pen and a paper, keeping score at any land-based casino can be regarded as highly suspicious)
We highly suggest Codeta online casino when using the Labouchere Method, since they have a really good focus on Live Casinos, including in their welcome bonus with the best low wager free spins, in which you can read more about here.  
The welcome bonus at Codeta gives you a bonus at their Live Casino – a top-up or a cash back depending on how you're doing. If you, during your first week, makes no winnings you'd be offered 10% of what you lost. On the other side, if you have a positive balance on your account after the first week they'd top those winnings with 10%. It's a really convenient way to go about the bonus, as it's as upfront as you can find one.
Reverse Labouchere
The Labouchere Method can be played as a positive progression betting system – also known as the reverse Labouchere. In this version after a win, instead of crossing off numbers from the sequence, the player adds the previous wager amount to the end of the sequence. You keep building your sequence of numbers until you hit the table maximum. After a loss, you need to cross over the outside numbers and continues working on the shorter line. The player starts their line again if they run out of numbers to wager on.
The Reverse Labouchere method is often used because where the Labouchere list represents how much the player wants to win, a reverse sequence line represents the most that the player will lose during the betting cycle. It is with this that a player can create their own line purely depending on the deposit representative of the maximum amount that they can sustain in losses.
There is no requirement for a player to have to continue the reverse Labouchere method until the table limit is met or exceeded, you could instead pick a single wager that you does not wish to exceed and make that bet you own limit. Just keep in mind to really stick to this limit, otherwise, the method is completely useless.
Unlike the Labouchere system which (when adhered to strictly) requires a winning percentage of at least 33.34% to complete, the winning percentage needed to complete a Reverse Labouchère line is going to be dependent on both the table limit (or the maximum single bet a player is willing to make) as well as the numbers on the initial sequence in relation to the table limit.
For example, if a table had a limit of £500 and a player composed a Reverse Labouchere sequence as follows:
50, 50, 50, 50, 50
Nine consecutive wins (100, 150, 200, 250, 300, 350, 400, 450, 500) would cause the next bet in the system to exceed the table limit, and thus the line would be completed with a player profit of £2,700.
In contrast, if a player composed a Reverse Labouchère line such as:
25, 25, 25, 25, 25
Nineteen consecutive wins (50, 75, 100, 125, 150, 175, 200, 225, 250, 275, 300, 325, 350, 375, 400, 425, 450, 475, 500) would cause the next bet in the system to exceed the table limit, thus the line would be completed with a player profit of £5,225.
The length of the sequence in the Reverse Labouchere Method is also important as it relates to the percentage of wins necessary to complete the system.
For example, if a sequence of: 50, 50, 50, 50, 50 suffers three consecutive losses as soon as the  begins, then the sequence is completed and a new sequence must be started, or the player may choose to quit. But on the flip side, no method can be viable or stand up to complete losses.
The longer a sequence is in the Reverse Labouchere method, the more you're risking of losing. However, the longer the sequence, the better winning percentage the casino need have in order to break the player's line.
Advocates of this system point out that when a player uses the Labouchère System, where a streak in the casino's favor, or many mini-streaks in the casino's favor, will cause the player to sustain a huge loss, a single streak, or a few streaks in the player's favor using the Reverse Labouchere method will cause the player to have a huge gain.
Goods and Bads with This Method
Every method has it's advantages and drawback, there is no shame in admitting it. As long as you know your own boundaries and keep a calm face to adapting the method, there is no doubt this method is allowing a lot of people to receive a better understanding of the system of wagering as well as adding a bit more human factor to gambling.
What is good about It:
A very flexible method
Good for low-stakes players as well as High-rollers
A fun way to go about playing some 1:1 games.
Drawbacks:
It's not as easy to apply as some other methods
Does not affect the odds
You can still expect to have losing-streaks
It's possible to reach the house limit before the crossing of the whole sequence
Read our article as to why "You Need to Start Playing More Black Jack!"
Last Updated on September 5, 2020