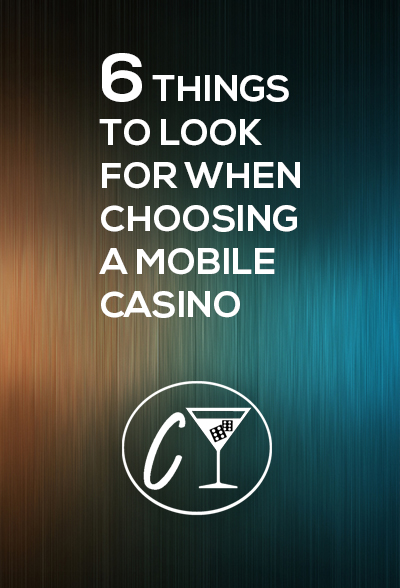 What to look for when choosing a mobile casino? The time might have come when the scale has tipped over from computer gambling to mobile gambling. The trend has already shown that more and more people prefer playing through their smartphones or any other kind of tablet. The online casinos knows this and the battle of offering the best mobile casino available is here.
But is the experience really the same?
Things to Look for When Choosing a Mobile Casino
–
What differs a mobile casino from a web casino?
Through the development of coding such as HTML5, the need for a flash player disappeared and opened the gate to start developing mobile casinos from a computer-based one that wasn't comparable through a mobiles web browser before. Many casinos before HTML5 tried to mainstream a mobile version but it was just too much of a hassle for anyone to really enjoy it.
With the rise in popularity in mobile applications, casino apps quickly became a thing – as they offered a compatible version of an online casino in a more compact and user-friendly manner. Some problems still existed with having an online casino in your phone, for example, it would eat up your mobile's internet data. This problem was resolved through a higher number of quality 3G and 4G connections that came with a cheaper price.
Other than your own take on the experience, the difference in outcome is not as big between computer casino gambling and mobile casino gambling. It's not the casino itself but the game developers that make the mobile games what they are. Some of the leaders in game developing, NetEnt, Microgaming, Playtech, Playson, IGT, Endorphina have put in the time and effort to make sure all of their titles could be played using mobile devices in a nice and viable format. This adapts not only for their latest releases but also for many of their classic titles.
There are still a lot of games that can't be accessible through a mobile casino, but this is soon to be a non-issue as the gap tightens each day.
Casino App or Instant Play?
The app is, as most of us know, a downloadable feature that adds an application which gives you access to whatever you just downloaded. A casino app is developed by a casino to give you an "on-the-go" experience but still have the possibility enjoy good casino session.
It's more common for an app to be available through an iPhone or iPad than it is through any android devices. The reason for this is that Google Play Store did not want to offer any mobile gambling apps, so all the developers focused on making compatible iPhone apps. This ban has been lifted and the Android options is soon up to par with what is offered for an iPhone user.
As mentioned, HTML5 really made it possible for casinos to offer a good instant play solution. By instant play, we mean through your mobile's own web browser, hence playing at a casino without the need to download any application.
Instant play on a casino that don't need registration is exactly the same for both iPhone and Android devices, or any other device for that matter. It's easily accessible and gives you the opportunity of jumping between different casinos in a higher phase in the search for the ones you like.
With this being said, you should do your research, either through reviews or through instant play at casinos that offers a "play-for-fun" option. Once decided, find a casino that offers an app and at least try it out. A lot of the hassle disappears once you do. I mean, who uses Facebook through the web browser on their phone and not the app?
1. Is Mobile Casino Gambling Something For You?
I think it's clear to establish that computer gambling is something you enjoy and that you want to expand this to your mobile. If not, you should start with figuring out if an online casino as a concept is something you would enjoy. Online Casinos with new slots also tend to share them on their mobile platsforms as well.
If you a person who really likes flashy and visual effects when gambling, some of this might be lost in a mobile casino, for example, Kaboo online casino offers a really cool concept and design in the computers web browser, but some of their features loses its traits once on a mobile phone. If this in some way resembles you, try to find a casino in which you feel like you can enjoy, since it is something to look for when you choose a mobile casino.
If you, on the other hand, have a more platonic way of gambling, this might be a perfect solution for you! It gives you the possibility to visit your favorite casinos from any place in which you have an internet connection.
Before you pay any money into an online gaming account, you should always look into the background of your chosen online casino to make sure they are trustworthy. You can do this by reading expert reviews or find sites that are under certain regulations like The UK Gambling Commission.
If you already play with an existing online casino, you should check to see if they have mobile casino apps that you can download and use to access gaming on the move as you are already assured of their security and reliability.
2. Do They Offer a Welcome Bonus?
This is more of a general "is this casino good?" question, but it might be overlooked when choosing a mobile casino since there are so many other factors that one have to take into account.
Sometimes it's easier to look up facts like this on the computer beforehand so that you can focus on the more visual stuff once you have a better knowledge of what is offered from the different casinos. The most up to date online casino bonus list, that is applicable for a mobile casino is found in this list of at casinomartini Also, interested in Casino's that accept PayPal? Check this list.
3. Do They Have the Games That You Like?
As mentioned, it's pretty unusual for a casino to offer the exact same games on a mobile device, so be sure to check out if there are any games that you would miss out on before registering at a mobile casino. The developers are constantly working on this issue and this is a problem that we hopefully won't have to deal with in the future.
The list of game developers who focuses on slots has put both time and effort to ensure that all of their slot machines are available through mobile play. This is even true for all of the progressive Jackpot slots such as Major Millions, Mega Fortune, Hall of Gods and Mega Moolah.
The same goes for Roulette, Black Jack, Casino Poker, Baccarat, and Craps. They are all pretty much existing in the same way as on a computer version of a casino, but don't take any chances and check it out beforehand!
It's not uncommon to think that Live Casino games aren't available on a mobile device, but through the innovation of Evolution Gaming, this is no longer the case – however, it's rarer to find them on a mobile device as of now.
Keep in mind that it's not enough for a game to be available on a mobile device, it has to deliver to. Some slots, for example, don't fill up your whole screen, has major design flaws and are just disappointing, while others is perfectly adaptable and fill your whole screen.
Table games such as Black Jack tends to work better in a downloadable format. Try to search for specific Black Jack apps offered by casinos. Games with complex betting grids or multiple cards tend to be better on iPads or Tablets, as placing bets can sometimes get frustrating.
You should check if there are a wide variety of games available that fall within your preferred betting range. If there are only slots with high bets available and you want to budget for £20 of gambling each month, choosing a mobile casino of this kind might leave you dry after only a couple of hours. If that is the case, look for penny slots that take just 1p to spin or go for smaller bets in low variance machines.
4. Do They Have a Good Deposit and Withdrawal Function?
It's really important that any payment methods that you would want to use to add money into your account are available. Also, note that some methods for depositing money won't work for withdrawing money and some methods for a deposit might not activate a welcome bonus. If you are a fan of cryptocurrencies, some of the best bitcoin casinos also offer competitive deposit and withdrawal times.
Always read through a casino's Terms and Conditions page or search through UK casino list in order to know what you are getting yourself into.
Keep an eye out for transaction fees. Although some casinos say that "for us to be able to keep such a high bonus, we have a small transaction fee for deposits" – this is just not true. Any transaction costs a casino have for their players to deposit money should be taken out of the pocket of the casino, but sadly that is not always the case.
The minimum and the maximum amount you can deposit and for the different methods is also found at every casino's Terms and Condition page.
How quickly are the transactions processed and how much do the payout time differ between e-wallets and debit cards? Some casinos have really quick e-wallet payouts while the maximum amount to withdraw is lower. Also look for casinos that offer Trustly as a withdrawal method!
While it's a start to see how fast/slow a transaction is processed at any designated casinos web page, this is not always a mirror of the reality and can be devastating. Check out independent customers reviews or other investigating reviews. You can find some.
Lastly, there is also another convenient method of mobile phone billing that's available at some mobile casinos. This method allows you to deposit up to £30 a day without any extra accounts, long numbers or security codes to remember by simply putting the amount on your monthly phone bill. Super easy and simple to use, once this method is available at a mobile casino, it's highly unlikely to go away and a big reason why to choose a mobile casino.
5. Do They Have a Loyalty Program?
This might come as a stupid question, but if a mobile casino offers a Loyalty Program, it's safe to assure that much of what is offered at the casino is legit.
The first thing to look for when choosing a mobile casino is reputability, and how do you find this? Through people liking the casino. And how does a casino make people like them? By offering them a loyal service – hence a Loyalty Program.
Namely, we all know that there are many shifty casinos out there that do not have all the licenses and with whom you might have different kinds of troubles. The good news is that there are far more mobile casinos that are more than reputable and that are perfectly legal in the UK and that offer you the chance to have fun on your mobile device, playing all your favorite casino games without any need to be cautious.
6. Is it Compatible?
This is pretty self-explanatory when choosing a mobile casino. If there is a mobile casino that you like, find out if it is compatible with your device. Whether it is for any tablet, a downloadable application or if it has a good instant play option.
Of course, you want your mobile casino of choice to be user-friendly – meaning that you will not have to spend hours trying to figure out what you need to do in order to access a game. You might want to check out their free games beforehand as this is the most direct way to check this out.
It also has to be compatible with your way of playing, how you want to deposit and if the customer service offers you what you want. It can be a bit of a hassle to try to resolve problems by using a chat function when talking to customer support on a mobile device, so if you prefer talking on the phone, take this into consideration.
Here are some links that might be of interest to you:
Get a better understanding in how to utilize and control your gambling experience by reading 6 Reasons why most people fail at online casino
Find quality online casinos with high regulations to further invest in knowledge.
Last Updated on September 5, 2020