8 Real Reasons Someone got Suspended From a Casino [And how YOU can avoid it]
Categories:
UK
|
Published by:
Jeff Hayes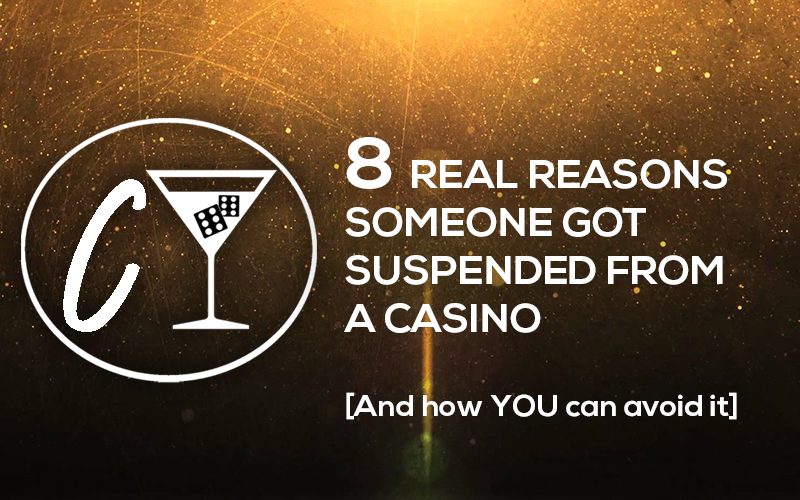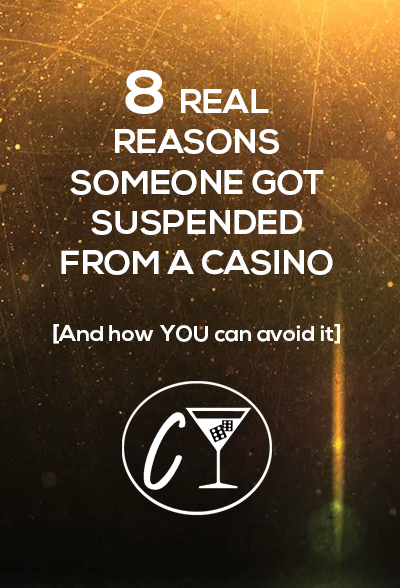 Got suspended from a casino and you don't know why? A casino simply doesn't suspend anyones account without a reason, given that reason is a valid one or not is undisclosed. It's also not unusual for the suspended not to be informed why this was done and this more often than not puts a player in a rather infuriating situation.
Let's go over some of the things that can cause a suspension and why there can be some misconceptions as to why this happened to you and why you got suspended.
Online Casino Legislation and Compliance
In order for a casino to stay compliant with any or all legislation that is required, the big focus lies on applying strict security procedures such as age verification, rightful person identification and other actions such as regulated and secure transaction procedures.
Any new online casino that wishes to be accessible in the United Kingdom is required to be sanctioned and approved by The UK Gambling Commission, as well as keeping up to their standards and policies. This means for example that an online casino has to meet a qualification for separation with the player's funds, this is to protect the players from a casino's potential insolvency.
There is a "basic" qualification that keeps players funds in accounts that is separate from business accounts – but they would form part of the assets of the business in the event of insolvency. This means that segregation of player funds from the casino's day to day operational funds is only divided after being transferred through the casino (Think of it as "not the same money") – hence not as protected from insolvency.
The highest form of players' fund's protection is "high" and players' funds are held in a formal trust account which is legally and in practice separate from the affairs of the company. This, in other words, means that the "physical" (and not fungible) money you win is the money you get transferred to your fund if that makes sense.
And don't forget, if you liked this, you'll love our list of the latest UK casinos.
Operators also have to report changes in the player fund account on a monthly basis. This report must show the movement of any funds so that the casino can't fudge their accounts by shifting money between the segregated account and any operational accounts. Any shortfall in player funds must be reported as a separate "key event."
It's also vital for an online casino to have clear terms and conditions and gambling/bonus policies, but we won't go too deep in those subjects in this article.
Pro tip: a great way to find online casinos is to use the international online.casino database. By using the database search function you can find information on basically any casino in the world, as well as information about bonuses, games, payment methods or other providers.
Got Suspended From a Casino – Why?
As a casino operator, there is as mentioned a lot of regulations to meet. We all know about the RTP-requirement and some of us are familiar with SSL (Secure Sockets Layer) which is a safety-protocol that encrypts data information between a browser and a server. A casino also uses a range of other electronic devices to examine and track customer accounts. Those intricate software are excellent at tracking a players game-play pattern, different associates, debit card and IP-identification and more. This is of course done through the SSL and all of this is stated in the T&C.
A casino simply doesn't suspend anyone's account without a reason. Given that reason is a valid one or not is undisclosed. But sometimes a casino "has" to close an account due to "security procedures" – in order to solve a specific problem or resolve another matter at hand.
It's also not unusual for the suspended to not be informed why this was done, since it may affect the outcome of the investigation. This more often than not puts a player in a rather infuriating situation and it's not hard to understand why you are here reading right now. It's not unlikely that you have no idea what you've done to deserve a suspension, but a reason someone got suspended can also be to protect the account which may be a victim of infringement or was operated in an inappropriate or fraudulent way.
Operators usually suspend an account to ensure funds are safely retained until sufficient information is obtained to resolve the issue that triggered the suspension. So any investigation might acquire you to participate with any information that can exculpate or facilitate the matter. The burden of proof should and will always be laid on to the Casino if you got suspended with the exception of identity fraud (which will be discussed further).
This can be a pretty prolonged process as a casino might need to gather third-party information to clarify other matters regarding the suspension. It can be in regards to software malfunctions or other reports.
1. Misuse of a Casino Bonus
A casino bonus is as distinctive with online casino gambling as it gets. But the terms of a casino bonus is often hidden behind the many zeros that come with it. The most overlooked part about a bonus is that it usually has to be wagered a lot of times before it can be withdrawn. This is sometimes a big problem for some and makes it so that their funds get frozen in a casino for this reason. But people often don't think twice when accepting a bonus and can be very disappointed when the veil has been lifted.
A casino bonus is supposed regulated to be a fair incentive for a player to register to a casino or to keep playing at one. But of course, there are always people that open up to the term "bonus abusers". And if you got suspended by a casino, for this reason, you probably know if you are guilty or not.
A bonus abuser is a player who is playing only to try and take advantage a bonus and has no apparent intention to wager the required amount, or in any way comply with the terms that the bonus comes with. There is the deliberate bonus abuser as well as the careless ones. Both can, of course, be the cause of the suspension. This can also result in frozen deposits and even legal action.
A careless abuser can, of course, be prevented to some degree by a casino, by making the bonus terms and conditions clear for anyone who wishes to take part of it, and what the consequences will be if found bonus abusing.
A bonus abuser has no right to the money that was claimed by the bonus since it does not legislate as 'his' money before the wagering terms are fulfilled. It's not free money that the casino hands out – it's more of an intangible service. It is also not necessary for a casino to disclose the reason for the suspension since this, as discussed before, might affect the investigation. A suspicion of bonus abuse is seldom enclosed to only one account or a one-time occurrence – it can be the tip of an iceberg.
Some of the reasons for a suspension:
The player already has an account with the operator or one of its associates
The player has already had the bonus or an equivalent bonus,
The player plays the bonus in non-qualifying areas and/or does not meet the 'turnover rules/wagering requirements
The player has engaged in just enough play to qualify for the bonus and then seeks to withdraw it
These actions are against the rules and terms of any casino
Legitimate and reasonable ways of dealing with 'bonus abuse'
Refusing to allow the withdrawal
Terminating the account and returning unspent deposits
Disqualifying the player
Legal action
Blocking an IP-address
Class action reprimands such as admitting to a glitch in a bonus
2. Not Complying with Terms and Conditions
We've all been in the situation where we agree to 4 pages long terms and conditions agreed in order to get to what we are agreeing to. This kind of ignorance of the terms is not often taken into account when such a condition is breached. You can only get away with so much. Only in a situation where the terms and conditions are so unclear as which, you can't grasp its content or if you are not advised enough to take part in them can you be exculpated from the terms. The casino is also required to inform you about any changes in the terms in which you agreed to. The bonus spins new casino's offer has a lot of regulations to follow in order to fully comply with the terms.
Read: Top online casino Bonuses.
Terms and conditions are to make it as fair for both parties, and since the online casino market is so competition heavy, having bad terms wouldn't make many customers stick around – but it's equally important that you are made aware of them. The terms might look similar between casinos but make sure to look for the most important parts of any terms. (For example, as most casinos have a 30 day period to make us of a deposit bonus, Vegas Hero only had 14, which fooled me).
If going into any kind of discussion about T&C breaches, be sure to refer to specific points of these during the dispute – as it is the main factor in resolving the issue.
This has a case-to-case outcome and it is really hard to make a definite statement in regards to if this may be the cause when someone gets suspended.
3. Foul or Abusive Language
This is kind of a subjective matter, although in the high end of an objective estimation. Every support staff handles customers differently and some are more sensitive than others, so both the support staff's experience of abusive language and the concrete estimation of what is okay or not should be taken into consideration in regards to such a matter.
However, they should not in any way be expected to tolerate any threats, abusive or foul language or intimidating conduct from customers. Casino staff has the utmost authority to reprimand a customer in a way that they see fit if they feel mistreated.
As it is customary to warn a player before they got suspend from a casino or have their account closed, in some circumstances, this will not be necessary as they are not expected to tolerate the irrational or threatening behavior.
4. Unusual Gambling Patterns
As mentioned, the ability of a casino to conduct information about players gambling patterns is high. It's even possible for the casinos that have a good collaboration to compare gambling patterns to other casinos through intricate algorithms.
If the nature of a bet was irregular, a casino operator can be forced to withhold all funds pending during an investigation in the matter or during any legal action. This is also something that is seldom disclosed with the player in question.
Where an error is obvious, or where a player bets in a way that indicates the error is obvious to them, then the operator is entitled to review and cancel the bet. Canceled bets in this category will usually involve a significant amount of money and not trivial amounts.
Where a player subsequently appears to be associated with a betting ring, betting coup, the illegitimate use of inside information or a breach of the event rules or the criminal law, then the casino may withhold the bet and any winnings and should report the matter to any authority that they see fit.
5. Triggering Security Alerts
Accounts are often suspended when it appears to a casino that a name, phone number, address, IP-numbers, bank account and so on has been used by more than one person. This is often to protect customers from identity fraud and to keep the account safe during an investigation in the issue.
Unusual, but innocent, actions of a player may trigger security alerts. Players who believe their account has been inappropriately suspended are advised to contact with the operator by e-mail, explain their position and cooperate fully with any questions the operator has in respect of their account.
Players who have tried to deceive, mislead or trick casinos will also have their account suspended. In these cases, the casino is likely to have to follow even longer and more complex procedures before any deposits or winnings are released. In many cases, the money cannot even be considered for release without the customer's full and honest co-operation.
6. Found an "Abuse" in a Game Without Reporting it
In rare cases, a software malfunction can "skew" the result in any game-play. This can be either in the favor of the casino or the player. It's not likely for a player to carelessly admit of such abuse if it's not completely apparent, but it might occur more likely for the "losing" part to assume such a thing – especially if this part was the reason for the suspension.
It's often very clear in any T&C that any play of that sort is prohibited and should be reported. Of course, any malfunction that disadvantage the player should be taken seriously, but a player complaining at a malfunction that is hard to prove is not always going to come out on top, which might be unfortunate.
If you got suspended after such an argument, with nothing other you can think of that could have led to the suspension, It's not unlikely a dispute could result in such a thing. A casino should be more prone to act with a degree of integrity and respect for bugs and errors, they should not seek to penalize or disadvantage customers unfairly.
What about faults in connectivity? If it is the player's internet connection or the casino's webpage that is the culprit is often hard to conclude, but it's more reasonable to assume that a casino is more fail-proof. Anyway since it's not culpable to any one party, it is the casino's responsibility to have such procedures in place to ensure a player is not financially affected by such malfunction.
A casino can usually investigate connection delays and disruptions if they are made aware of them early enough, but such investigations can take time as they may involve third-party internet and telecommunication service providers.
7. Fixed Live Stream and Same Winners Showing up on the Front Page?
As some research and inquiries with The UK Gambling Commission show, players tend to complain about a "Live Casino" that is streamed is fixed. Since it is not physically possible for a player to interact at an online casino with a live dealer, it might not be hard to understand that there might be some suspicion of what's going on behind the camera.
Live Gaming takes place in controlled environments but is not always as transparent as one might hope for. But it is as important for the Live Casino as it is for the online games to regulate and monitor performance. Any RNG should be displayed at Live Gaming as well.
Of course, there is the human factor when playing at a Live Casino, a dealer might make mistakes in handling cards, spinning a wheel or something else, but this should also always be fixed in an apparent way since it's in the casino's interest to keep any customers. There can also be image quality and other connection problems that can cause suspicion, especially when it comes a chance for big winnings in combination with any technical difficulties.
It's also not unusual that the "list of recent winners" on a casino's front page to be the victim of suspicion. This can be the result that such a list algorithm is calculating each player total winnings during a recent game session, so a higher depositing player will get more turnover as of the results of larger winnings. It's not unusual that those lists will take into account any players longer sessions, in case a player doesn't log out between sessions or what have you.
It goes to show that this wouldn't be anything a casino would admit doing, but as research from The UK Gambling Commission show, this is highly unlikely the case.
8. Bad Return to Player (RTP)
A requirement for an online casino to receive a high level of transparency and "proof of fairness" is, as mentioned above, to have a return to player (RTP) chart available for anyone that likes to take part in it. It's also important that the casino issues frequent surveys and reveals who is monitoring the numbers in the RTP-lists.
Another thing that is considered to be a "proof of fairness" is to provide a control system that shows a high standard of a random number generator (RNG). Casinos are required to have all RNG:s tested by independent sources and monitor the outcome of games in terms of the range and distribution of numbers it produces, such as how frequent a game amounts in a win or loss.
When the RNG is compromised with the value of games played, the RTP is built upon monetary values. It's easier to blame an RTP for losing than it is to blame the RNG since it's both more convenient and more comprehensive. But it's important to note what kind of factors that play in when it comes to the RTP. If one player wins big (like £10,000 from a £200 deposit), that RTP will amount in 5000%. This means that a lot of people will have to have a 0% RTP in order for a game to keep a steady RTP on around 95%-97%.
Accusing a casino of a fixed RTP is not something you should do, and instead, file a complaint to any gambling authority (Such as UKGC). This is also not very likely to be the reason a player got suspended.
Here are some links that might be of interest to you:
Get a better understanding of how to utilize and control your gambling experience by reading 6 Reasons why most people fail at online casino
Read more about The UK Gambling Commission and how they can help you if you got suspended.
Relevant news